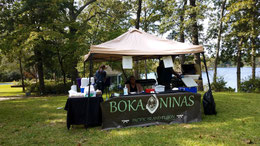 Did we have a BLAST or what?! We'd especially like to thank our food and goodie vendors. We all enjoyed Mrs. Rosette from Boka Nina's and her super-yummy island fusion food! Everything on our plates was finger-lickin-good. There were even folks who got a plate to go! We were also surprised that Mrs. Rosette donated nearly all her proceeds back to the center! Something we did not require her to do, but she did it anyway--WOW. Thank you so much for your charitable heart! You will be seeing us--we want those mango donuts!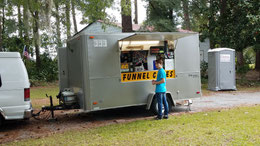 Thank you Mr. Brad from C3 Funnel Cakes for coming out to feed and hydrate our gamers and spectators! The food was DELICIOUS, fun was had, and friends were made! Lastly, but certainly not least, we want to promote our generous businesses, which were Simmons Street Piggly Wiggly in New Bern (thank you Mr. Danny!), The Neuse Blvd Neighbor-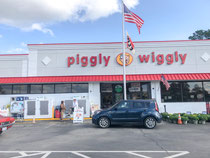 hood Walmart (thank you Miss Wendy!), the New Bern Chickfila (thank you Mr. Tom!), 37th Street Pizzeria (thank you Mr. Steve & Mrs. Janet!), Annabelle's (thank you Mr. Randy!), and the James City Family Tire (thank you all!!). These businesses right here in our communities provided everything from water, to first, second, and third place prizes for our guests.  We absolutely LOVE the communities we serve and that includes businesses like these. We ask that everyone reading please patronize them as often as possible!
Check You Out!
Thank You
For Coming!
---
Why Pro "ABUNDANT" Life?
---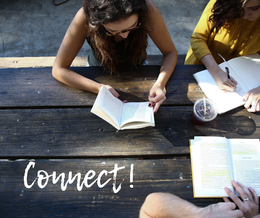 Add your name to our Care-Connection Card! We need people of God to help us lead the next generation straight to Him. It's the call on all our lives--to know Him, and make Him Known. Contact us today for more information!
---
Establishing Connection: Making Life Disciples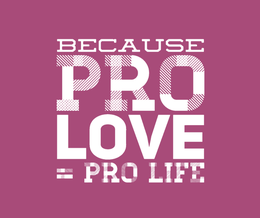 To learn more about training yourself or your members to become more effective L.I.F.E. Mentors, click here where you will find a couple of short courses which will help you understand our vision of making life-long disciples of Jesus Christ out of our clients and you will more easily realize the importance of training so that we may approach this delicate issue with excellence.  We want to keep the Lord's Church on the front lines of discipleship!
---