We talked, we ate, we played, and did we PLAY? By throwing a Fall FriendRaiser and Corn Hole Tournament, your EPIC Center hoped to see new faces, meet new folks from our local churches, and enjoy good company--all in the name of gaining friends and raising funds for the centers. Word on the street is, we achieved just that! We would first of all like to thank Mr. Bryan and Shelia Theune for their TREMENDOUS contribution of time and space--BIG space--in offering to build ALL of our corn hole boards AND letting us use their beautiful property as they are the new owners of the Whitford Plantation! It was truly wonderful to have such a scenic spot to host our first corn hole tourney (everyone agrees!).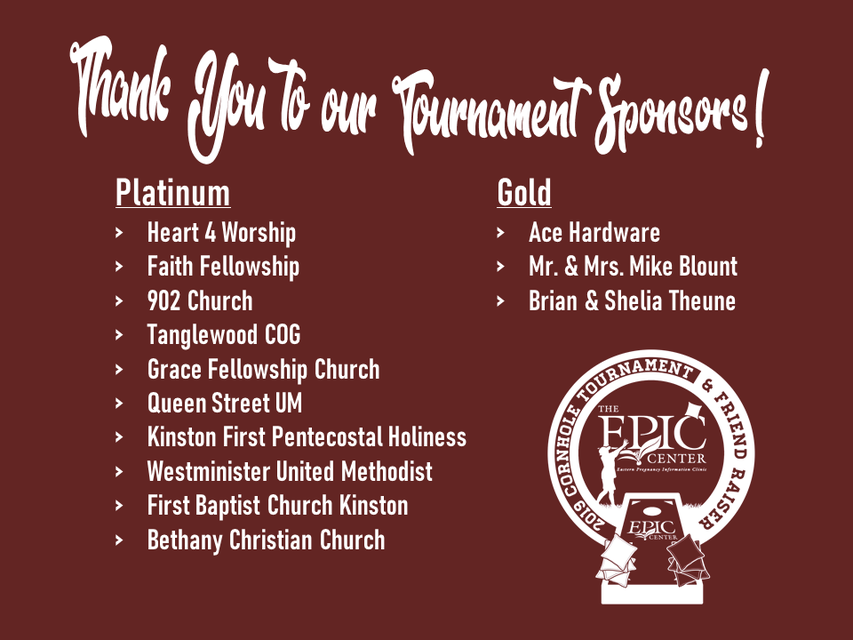 What a blessing it was to get to hang out with the good folks in our community who either have helped or want to help women (and men) facing an unintended/unplanned pregnancy by financially supporting the centers. Another big thank you to Mr. Tom Pike owner of FSU Chickfila-New Bern for lending us their cornhole board for first timers to practice on AND the FREEBIE-coupons!!! Always a big hit--who doesn't love Chickfila!? Another big thank you to Ricci Law firm for providing our guests with water AND Food Lion-James City for all the ice!
Families will be blessed through every single dollar given and every single effort taken to help these women in such a critical time of need. We can all agree that everyone should be loved just as God Loves us. We love partnering in this effort! We love praying together for our clients! And we love being supported by our community! Families helping families--isn't that what it's all about!?
We also would like to thank our board of directors for all the work they put into helping us get our first Fall FriendRaiser and Corn Hole Tournament off the ground. We ask our community to help us give a warm-hearty-Fall-sugar-and-spice THANK YOU to our Platinum and Gold tournament sponsors!!!
Thank you for coming out to play!
---
Photo cred: Mr. Jimmy Jack of Heart 4 Worship Church